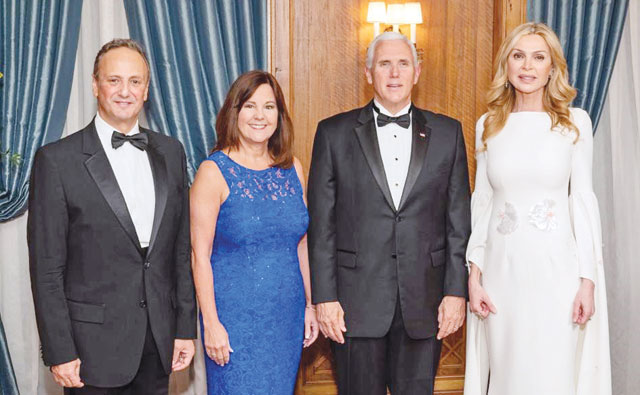 US Vice President Mike Pence and top US administration officials gathered at the Kuwait Embassy in Washington for an evening honouring Second Lady Karen Pence, the recipient of the Humanitarian Award for her commitment in raising awareness about the mental health with art therapy in the US and around the world.
The Gala Dinner for UNHCR, hosted by Kuwait's Ambassador to the US Shaikh Salem Al-Sabah and his wife Shaikha Rima Al-Sabah honouring Karen Pence, is an event that celebrates the enduring and important friendship and strong partnership between the US and Kuwait that goes back to many decades.
In his speech, Kuwait's Ambassador to the US, Shaikh Salem Al-Sabah shed light on Kuwait's commitment "to supporting refugees and advocating for peace, stability and dignity for all people".
Vice President Mike Pence thanked Ambassador and his wife "for their hospitality," expressing his honour "to be a part of such a worthy cause." He delivered the greetings of President Donald Trump and gratitude "for last year's honor and tonight's honour and wanted all you to know that he so appreciates the generosity and spirit represented through the event."
He praised Kuwait for being "one of the largest donors to the UNHCR from the Middle East and North Africa providing billions in humanitarian aid to its neighbours to help shelter refugees," expressed appreciation and gratefulness on behalf of the US administration.
He also took the opportunity to announce that the US has provided nearly $1.6 billion to the UNHCR over the past year and noted that this is the largest contribution from the US in history, an "unprecedented level of support in a single year," he noted.