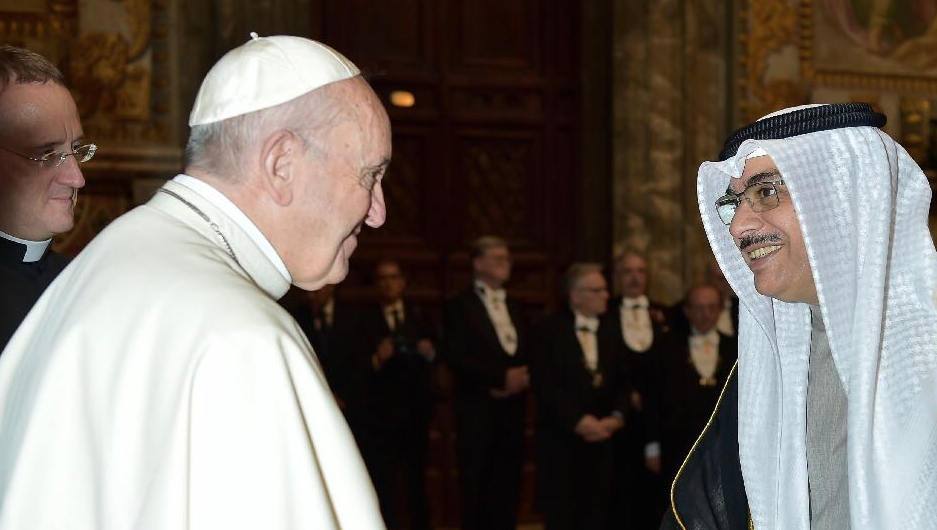 The Pope expressed his best wishes to His Highness the Amir Sheikh Sabah Al-Ahmad Al-Jaber Al-Sabah and the Kuwaiti people for their peace and good, praising His Highness's role in establishing the values ​​of peace and the principles of dialogue and coexistence.
The ambassador of the State of Kuwait to the Swiss Confederation, Bader Al-Tunaib, told KUNA that the meeting was attended by Pope Benedict XVI and the ambassadors of Vatican-accredited countries.
Ambassador Altneib explained that he conveyed to Pope Francesco greetings and appreciation of the Emir of the country on the occasion of the new Gregorian year and his wishes that 2018 will be a year of good and peace for the world and all its peoples.
He also expressed his sincere thanks and heartfelt condolences to His Highness the Emir of Kuwait, praising his pioneering role and efforts in establishing the values ​​of dialogue to settle disputes and conflicts and his patronage of humanitarian action and service.
In this regard, he referred to Pope Francesco's positions in expressing the world's issues, concerns and efforts in promoting the values ​​of solidarity among peoples and cultures, and confirming that the divine messages disavow hate speech.
In this context, Al-Teneb praised the Pope's speech this year on the "Charter of Human Rights" as "an irreplaceable basis for international relations". He appreciated the Vatican's principled and categorical position that rejects the status of the city of Jerusalem as stipulated by repeated UN resolutions as the basis for any serious settlement of peace