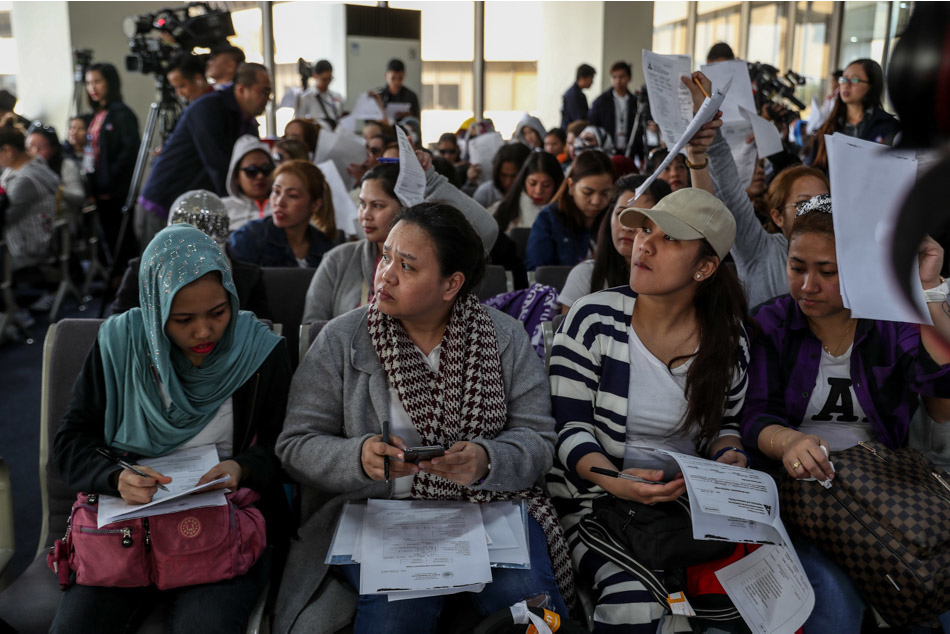 MANILA - Malacañang on Thursday reminded Kuwait of its obligation under international law to treat foreigners in its country the way it treats its own nationals.
This amid reports of abuse against Filipino domestic workers in the Gulf state, which had prompted a Philippine deployment ban and a repatriation program.
"I would like to remind Kuwait authorities of the standards by which aliens should be treated in their territory," Presidential Spokesperson Harry Roque said in a news conference.
"Under international law, each country is bound to give to the nationals of another country in its territory the benefits of the same laws, the same administration, the same protection, and the same redress for injury which it gives its own citizens, neither more nor less," said the official, an international law expert.
Ties between the Philippines and Kuwait have been frayed amid the Duterte administration's recent efforts to protect overseas Filipino workers (OFWs) in the Gulf state following a string of deaths of Philippine migrants.
President Rodrigo Duterte recently ordered a ban on the deployment of Filipino workers to Kuwait and encouraged those still working there to go back home under the government's repatriation program.
His criticism of the abuse of migrant workers escalated with the discovery of the body of domestic worker Joanna Demafelis, who was found inside a freezer in an abandoned apartment in Kuwait. She was last seen alive in September 2016. Initial investigation found signs of abuse.
Kuwait has been displeased by Duterte's recent tirades, with Kuwaiti Foreign Minister Sheikh Sabah al-Khalid al-Sabah saying the President's remarks came as a surprise.
"We condemn statements from the Philippine president, especially as we are in contact with the Philippine authorities on a high level to explain the workers' conditions in Kuwait."
"Escalation does not serve the ties between Kuwait and the Philippines," Sheikh Sabah said, adding that 170,000 Filipinos "live a decent life in Kuwait.
"But separate accidents unfortunately happen, and we are providing our Filipino counterparts with the results of the investigations," he said.
Roque, in response to the Kuwaiti top diplomat's comments, said it is Duterte's duty to ensure that Filipinos in foreign lands are well protected.
Meanwhile, Foreign Affairs Secretary Alan Peter Cayetano and Kuwaiti Ambassador to the Philippines Saleh Ahmad Alhwaikh are set to meet Thursday to discuss the issue.
"Secretary Cayetano was tasked to get a commitment from Kuwait on how to protect Filipino nationals in Kuwait," Roque said.