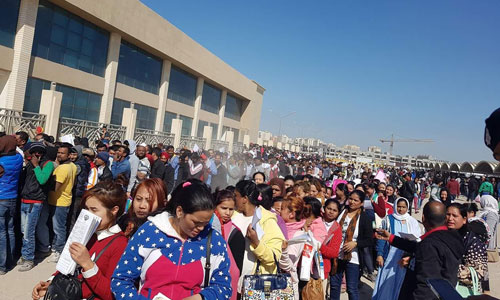 Farwaniya residency affairs department will receive expat violators who can benefit from the ministerial amnesty decree during afternoon hours and weekends (Fridays and Saturdays) from 2:00 pm till 7:00 pm for correcting their status or leaving the country. All departments in other governorates receive the violators of the law in the mornings during official working hours.
The department urged violators to take advantage of the amnesty and correct their status or leave.
The residency affairs department witness large crowd of expatriates who came forward to utilize this opportunity to leave the country without paying fine.
Kuwait Government announced Amnesty scheme for expatriates without valid residency to leave the country without paying fine. Those who leave the country during this amnesty period are allowed to enter Kuwait again if they meet the regular conditions of entry and if they were not banned for another reason. The amnesty period is from January 29 to February 22, 2018.
--------------------------------------------------------------------------------------------------------------------
BEST DEALS : AMAZING OFFERS AT FUTURE COMMUNICATION COMPANY..
CONTACT : 1844442
There are amazing discounts on SMARTPHONES, GRAB IT NOW From 4th Feb Till 11th Feb. 2018...buy right away before the deal runs out?
Locations: Kuwait International Airport – Arrival Zone/ Departure Zone, Al Rai – the Avenues, Farwaniya – Metro Complex / Al Farwaniya commercial complex, Khaitan – Grand Hyper, Jahra – Al Qaser Complex, Kuwait City – Commercial area No.9 (Shop No – 8) / Souk Sharq Mall (Mezzanine Floor), Salmiya –Marina Mall / Boulevard Mall Fahaheel – Al Anood Complex / Grand Hyper Mall, Mangaf – Al Azizia Complex (Shop No – 18), Jaleeb Al Shyoukh –Salem Al Mubarak Complex (Shop No – 1) / Grand Hyper, Qurain – Addan Co-Operative Society, Rumaithiya – Rumaithiya Co-Operative Society, Jabriya – Jabriya Co-Operative Society, Qadsiya – Qadsiya Co-Operative Society, Shamiya – Shamiya Co-Operative Society.
مطار الكويت الدولي – قاعة القادمون / قاعة المغادرون، الري - الأفنيوز، الفروانية – مجمع مترو / مجمع الفروانية التجاري، خيطان – جراند هايبر الجهراء– مجمع القصر، مدينة الكويت – المنطقة التجارية التاسعة (محل رقم 8) / سوق شرق (الميزانين)، السالمية –مارينا مول / بوليفارد مول، الفحاحيل – مجمع العنود / جراند هايبر مول، المنقف – مجمع العزيزية (محل رقم 18)، جليب الشيوخ – مجمع سالم المبارك (محل رقم 1) / جراند هايبر، القرين – جمعية العدان التعاونية، الرميثية – جمعية الرميثية التعاونية، الجابرية – جمعية الجابرية التعاونية، القادسية – جمعية القادسية التعاونية، الشامية – جمعية الشامية التعاونية.